Cosmetic surgery clinic information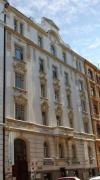 To make your search for information about our Prague cosmetic surgery clinic easier we have placed the link directly on the right column. There you will find information in detail including some photos of exterior and interior.
Our cosmetic surgery clinic is healthcare registered with the Czech Medical Chamber and employees professional plastic surgeons, nurses, anaesthetists and medical staff.
What our clients say about our cosmetic surgery clinic
"My cosmetic surgery went well, everybody spoke English, which reassured me. The post-operative aftercare was excellent. The nurses in the clinic were wonderful, helpful and friendly. I was surprised by the level of friendliness, help and support." Michelle, age 24, England, UK, (Liposuction)
More Client or Video Testimonials