Beauty in Prague's guide to Prague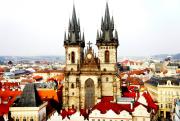 One of the benefits of coming abroad for cosmetic surgery is that you get to enjoy the wonderful surroundings of a European city.
Beauty in Prague want you to enjoy your stay with us here in Prague, but you must only venture out if your surgeon gives you the go ahead. Your recovery is our main priority. If you do venture out and begin to feel pain or feel tired, you should return to your accommodation as soon as possible and rest.
Getting around Prague
If you choose to go on either the Metro or a Tram then you will need a ticket. The tickets cost either 24kc for 30 minutes and 32kc for 90 minutes. You can usually get to where you need to go with a 24kc ticket. You can buy these tickets in any Portraviny (looks like a small newsagent) just go to the counter and ask for however many tickets you need. Some Tram stops and all Metro stations have these machines where you can buy tickets. You will need change to do this. There is also an English option on the machines.
When you get on the Tram there will be a yellow box. You will need to put the ticket into the box (orange arrow end of ticket) to validate it. This means that your ticket is valid for travel from that time for however long the ticket time is (30 or 90 minutes).
When you enter the Metro there will be the yellow boxes at the top of the escalators. Make sure you stamp your ticket before going down the escalators, some ticket inspectors are at the bottom to check.
If you do not stamp your ticket there is a chance that you can be stopped and then fined. Beauty in Prague cannot be held responsible for these fines.
If you chose to pick up a taxi then negotiate a price before getting in. Most Taxi's will put you on a higher meter tariff because you are tourists and you could end up paying triple what the actual fair costs. If you don't agree with the price, then move on to another taxi.
Staying Safe
Prague has a very low crime rate in general but as with all major cities, pick pocketing is quite common. Please don't be paranoid, we want you to enjoy your free time in Prague but there are ways to stay safe:
Make sure your handbag is closed
If using a backpack, do not put valuables near the top
Keep your valuables locked away in your hotel or at the apartment
Don't carry huge amounts of cash
Don't leave valuables on tables, especially if sitting outside
Refuse anyone who offers you tickets, currency exchange or VIP club passes on the street
Prague is a safe city and it is highly unlikely that you will have any trouble but just remember to stay sensible and then you will be safe.
Things to do and see
The heart of Prague's historical centre is Old Town Square. It has been beautifully restored and is a good place to see during any free time you have. You will find the gothic spires of the Tyn Church towering over the square, the statue of the reformer Jan Hus and the Astronomical Clock on Old Town Square. You will not regret a climb to the top of the Old Town Hall Tower. The views are spectacular.
You can buy a ride in a horse drawn carriage that starts and ends in Old Town Square. The carriages are lined up near the white St. Nicholas Church and a 20 minute ride costs around 800kc – 1000kc per carriage and each carriage holds up to four people.
Wander the streets leading off the square, the grand Parizska, the charming Tynska that leads to Ungelt, the ever busy Melantrichova that will take you to Wenceslas Square.
The Jewish Quarter is not far from Old Town Square and it would make sense to visit in connection with your tour of Old Town. The Jewish Museum administers the following sites; the Maisel Synagogue, the Pinkas Synagogue, the Spanish Synagogue, the Old Jewish Cemetery, the Klaus Synagogue and the Ceremonial Hall. The Old-New Synagogue is the oldest working Synagogue in Central Europe.
Walk across the Charles Bridge either early morning or in the evening, the crowds will be less busy and you can take in the spectacular sunrise, sunset or see the river by moon light. You will also have fantastic views of Prague Castle on a clear day. Bear in mind that during the day, you can climb the towers either side of the bridge, giving you spectacular views of the bridge, spires and Old Town.
You will not find one single castle on the hill, but a series of buildings, a few churches and hundreds of years of history. Before walking through the entrance, walk to your right to get fantastic views of Prague.
Getting to Prague Castle by Tram:
Taking the tram will save you a walk up a very steep hill or lots of steps. Take the tram number 22 from either Narodni Trida or the Malostranska stop and get off at one of these stops:
Královský letohrádek – If you get off here, you can start with the Royal Garden, Belvedere and Ballgame Hall, then cross the Deer Moat Bridge to get to the second courtyard. Note: The Royal Garden and Deer Moat are closed from November through March.
Pražský hrad – As its name suggests, this is considered the main Prague Castle stop. Get off here if you would like to start at the second courtyard. Pohořelec – Getting off here will enable you to walk to the Castle through Hradcany and arrive at the main entrance. This is probably the nicest route and our favourite. This way you can walk back down to Lesser Town once you have seen the Castle.
Currency
The official currency of the Czech Republic is the Czech Crown (Koruna) abbreviated as kc. 1 crown consists of 100 Hellers. Heller coins have not been in use since 2008 but Hellers are still incorporated into merchandise prices and so your final price will be rounded up to the nearest crown value. The approximate value of 100kc is 4EUR/£3. As the official currency, the Czech Crown is the best and often the only currency accepted. Although the Czech Republic is part of the EU, the Euro is not widely accepted here yet. Some stores, restaurants and hotels accept payments in Euros but the exchange rate may not be very good.
Tips for Drinking and Eating
Traditional Czech food is heavy on the meat and carbs and it seems you can't walk more than five minutes in any direction without passing at least one restaurant serving up heaping plates of goulash and dumplings, carving boards bearing obscenely large pork knuckles, bowls of sausage in dark beer sauce or platters of beer cheese and fried bread. Don't miss your chance to try at least a few of these delicious specialties, but if you find (as you probably will) that one can only eat so many platters of goulash and dumplings, know that there are many more options available.
Tips for dining in Prague
When tipping, at most places, you can simply round the bill up by 10 or 20 crowns. At nicer restaurants, a tip of 10–15% is expected. Always check to see if the gratuity was added to the final bill.
It's considered polite to hand the tip to the waiter. Just tell him or her how much you'd like back, or tell him or her to keep the change, rather than leaving it on the table.
Many excellent places have menus in both Czech and English, but you'd still be wise to avoid places – especially around Old Town Square – that have menus in nearly a dozen languages. These tend to be the most overpriced.
Tips for drinking in Prague:
If you're paying more than 30–40 kc for a 0.5l beer, you're paying too much. But tourist areas will probably be around 40–60kc
To say "cheers" in Czech, raise your glass, look the person in the eye and say "Na zdravi," briefly set your glass on the table, and then drink.
For more information, please call 0800 023 2592 free or apply for our free email consultation by filling in the medical questionnaire and sending us your photos.