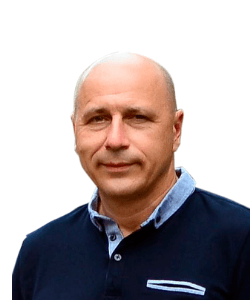 Areas of expertise:
Body cosmetic surgery:
Face cosmetic surgery:
Breasts cosmetic surgery:
Dr. Miroslav Veliky, M.D.
Dr Miroslav Veliky MD is fully qualified and experienced Prague Plastic surgeon. Dr Veliky has been performing cosmetic & plastic surgery procedures for nearly 30 years. Dr Veliky´s experience includes operating on the NHS in the UK and France. Dr Veliky is GMC registered in the UK and speaks speaks English and French fluently. 
Dr. Miroslav Veliky received his MD degree from Charles´ University, Prague in 1993. Before embarking on his plastic surgery training he carried out his core and advanced training in general surgery at University hospital, Prague and completed it with the licence to practice in 2000 at the consultant level. At the time he worked also as a lecturer at the Department of Anatomy, Medical School, Prague.
Dr Miroslav Veliky MD underwent his plastic surgery training at Institut of Postgradual medical education, Prague and mainly during his residence in France at Henri Poincare University, Nancy and Sophia Antipolis University, Nice and also at Hospital Boucicaut and Clinique Victor Hugo, Paris. At this time Dr Veliky gained his French Interuniversity Diploma in microsurgery and successfully passed the exam in Advanced studies in plastic and aesthetic surgery at Henri Poincare University, Nancy, France.
Dr Miroslav Veliky MD completed his plastic surgery training in 2005 after board certification in Prague and than he worked at University hospital till 2009. Starting in July 2009 Dr Veliky left Prague and began his surgical career in United Kingdom. Dr Veliky´s areas of expertise are breast reconstruction and aesthetics, microsurgical breast reconstruction, aesthetic facial surgery and body contouring and almost 20 years experience in fat transfers. Finishing dermoscopy cours at Welsh Institute of Dermatology, Cardiff University Dr Veliky has also excellent training in diagnostic and surgical management of skin cancers and non-malignant skin disorders.
Registered with GMC (General Medical Council in the UK) Reference Number: 6166355
MEDICAL DEGREE
2005 Certificate in Plastic Surgery
2001 Diploma in Microsurgery Studies, University Henri Poincaré, Nancy, France
2000 Professional Examination in Plastic Surgery, University Henri Poincaré, Nancy, France
1996 I. Medical Licence in General Surgery
1987 – 1993 Charles University Prague, Medical Faculty
PROFESSIONAL EXPERIENCE AND RESIDENCIES ABROAD
2011 – 2017 University Hospital Liverpool, Plastic Surgery Dept., Great Britain
2009 – 2010 Hospital Salisbury, Plastic Surgery Dept., GB
2004 – 2009 University Hospital Královské Vinohrady, Clinic for Plastic Surgery
2004 Hospital Na Bulovce, Clinic for Plastic Surgery
2001 – 2003 University Hospital Nice, Plastic Surgery Dept., France
2000 – 2001 French Institute for Hand Surgery & Victor Hugo Clinic, Plastic Surgery Dept. Paris, France
2000 University Hospital Jeanne d´Arc, Plastic and Reconstruction Surgery Dept., Nancy, France
1994 – 2000 University General Hospital Karlovo náměstí, I. Surgery Clinic, I. Medical Faculty
1997 – 1998 Anatomic Institute at I. Medical Faculty of the Charles University, Prague
1997 Hospital Boucicat, Plastic Surgery Dept., Paris, France
1996 Center for Hand Surgery, Angers, France
1993 – 1994 Hospital Tábor, Urological Department
COMPLETED COURSES
2017 Nasal Tip Aesthetic Rhinoplasty Course
2017 Medical Micropigmentation Masterclass
2016 Breast Reconstruction Course
2016 Abdominal Wall Reconstruction
2014 Dermatoscopy Course (+ exam)
2013 Advanced Educational Course on Skin Cancers
2013 Clinical Supervisor Course
2012 Advanced Communication Skills
2010 Course in Safe Use of Lasers, Intense Light Source Systems and LEDs in Medical, Surgical, Dental and Aesthetic Practice
2010 Courses in Application of Botox, Injection Techniques and Aesthetic Surgery
AFFILIATIONS
The General Medical Council (GMC) in the UK
The Association of Plastic Surgery CSL JEP
Czech Society of Aesthetic Surgery
LICENSES
Licence in the field of general surgery
LANGUAGES
English – fluently
French – fluently
Free consultation with a Prague plastic surgeon
More reviews
Other Prague plastic surgeons